Every time I talk to students living outside of the U.S. about pursuing a Ph.D. degree in the U.S. I ask this question: "What is your motivation for considering a Ph.D. degree in the U.S.?" I also like showing this funny figure.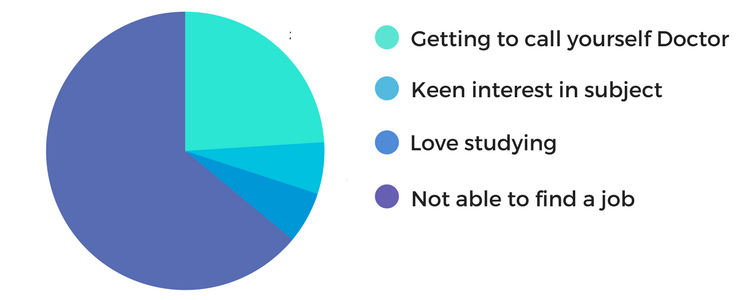 Jokes aside, motivations do vary—people consider doing a Ph.D. because they do not know what else to do, or they just love studying and miss the feeling of being in school, or they want some extra challenge; or they want to become a professor or, perhaps, they want to get rich and famous.

However, to succeed in an American Ph.D. program, one needs to have an enormous amount of passion for their field—be it social sciences, natural sciences, art, engineering, or anything else.

It is also important to have narrowed-down research interests, i.e. you might be interested in researching how media coverage of a particular topic affects people's perceptions; or studying the physiological mechanisms that underlie the Selenium hyperaccumulation in plants; or perhaps understanding what attributes consumers prefer when purchasing produce. What I am trying to say, is that just a general interest in a subject area (i.e. economics, biology, music, etc.) is not enough

One should also be prepared to not have much social life at least the first year and a half or so (you'll understand the reasons half way through the article).

Just a personal example, I came to the U.S. as a Master's student. Back then, I would always tease my friends who were pursuing a Ph.D. for not wanting to socialize, and always pretending to be busy. Then I started my Ph.D. program and realized that as much as I love socializing and traveling, rarely ever did I have time to go out, let alone travel, and my non-PhD friends started teasing me (Karma at its finest, I guess).

Whenever I did have time, I would just stay in and catch up on my sleep.

Dear reader, if after reading all this you are still on this page then you got what it takes, and here are the detailed steps for becoming a Ph.D. student in the U.S.
What are the Ph.D. program pre-application steps you need to consider?
Once you have it figured out what field you want to pursue your Ph.D. degree in, you need to find the right program.

There are many ways to do this, I will list some of the common ones (or at least common among my network).

It may seem obvious but talk to your professors, friends, and even people you do not know. Many of them have gone through the same steps, and may have a few recommendations; many of them have also been on exchange programs and may know the right people who might help you out.

There are also very useful websites where you can type in your field, add some filters to your search, and voila—universities that offer programs of your interest.

Two websites that I have used are www.gradschools.com and www.phds.org. Among the best such websites that offer information about Ph.D. opportunities is https://armacad.info.

If you (or your friends and colleagues) do not know anything about the university or the program offered by those websites, you might want to check the ranking of the department/university on www.timeshighereducation.com/world-university-rankings, www.shanghairanking.com. You can also just look it up on Google by typing "Department of XYZ, University of ABC ranking".

The university itself may not be highly ranked but the department you are interested in within the same university may be one of the top departments in the world.

While these websites offer some interesting insights, take their rankings with a grain of salt, because while ranking, each gives a different weight to a set of criteria.

Do not base your choice of a university or program solely on these rankings.

Another way to find a suitable program is to read scientific articles, find professors who have done research in your area, and then find what university/department they are part of.
How to Fund your Ph.D. studies in the United states?
Funding is another important aspect that bothers many foreigners.

As you might know, the education in the U.S. is very expensive.

The good news is that most American Ph.D. programs offer different funding opportunities.

Depending on your field, a particular department may offer a full tuition waiver, Teaching Assistantship, Research Assistantship, scholarship, or a combination of several of these options.

At a Ph.D. level, it is rare to receive a full scholarship that would cover all expenses.

Most probably, the department will offer a full tuition waiver and either a Teaching Assistantship or Research Assistantship that will help you cover your tuition fees and living expenses.

The information about funding availability is usually posted on the departmental websites. If it is not, you can always contact the department and ask about their funding opportunities.

If you are lucky enough to become either a Teaching Assistant (TA) or a Research Assistant (RA), you will be required to work 20 hours per week for a particular professor in addition to taking classes. You will also be limited to those 20 hours, meaning that you will not be allowed to legally work at another job on or off campus.
Other factors to consider while applying to Ph.D. program in the United States
Other factors to consider when looking for universities are the location of the university, the climate in the city/state, cost of living, and available activities.

Being accepted to a Ph.D. program is wonderful but spending four to six years (average duration of getting a Ph.D. in the U.S.) of your life in a place that does not have any of the activities you are interested in, or in a place which has a climate that you hate would make the experience really stressful.

Make sure you spend enough time checking these things before you apply to any program. Four to six years is a long time; thus, it is important to weigh in all the pros and cons of pursuing a Ph.D. before you apply to any program.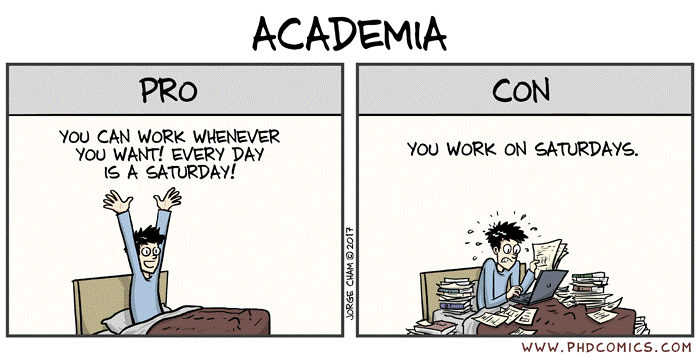 U.S. Ph.D. Application Steps to Keep in Mind
Keep in mind that the deadline for most of the U.S. universities is sometime between December and January, occasionally there will be programs that accept applications after January. This is generally the deadline for the programs that start in August.

The deadline for programs starting in January or May will be different.

However, to be considered for a Teaching or Research Assistantship, many departments require applying between December and January.

The application package is pretty standard for most of the programs (at least in the Social Sciences). It generally consists of the following items:
Bachelor's or Master's degree;
Transcripts from the previously attended university;
TOEFL score (IELTS or other English language exams may be accepted too, depending on the university);
Filled-out application form, which can be obtained from the university's/department's website;
Statement of purpose, where you should illustrate why you are interested in the particular program, and why you are the best candidate—a good opportunity to brag about your achievements (try not to come off as self-centered and arrogant);
Letter of recommendation. Most programs require about three letters of recommendation to be written by the applicant's professors, supervisors, or advisors. Also, many universities want the letter to come directly from the person who wrote it and not from the applicant. This means that your professor/supervisor/advisor needs to send the letter to the department herself/himself;
Professionally written CV or Resume;
Writing sample. Some departments require this, others do not. If they do, make sure to send your best piece of writing.
Application fee. This varies by university and can be as low as $60 or perhaps as high as $150-200.
Other special requirements, like a detailed research proposal. It is important to carefully check the university and department requirements not to miss a single document. Since each application costs money, it is better to be sure all the required documents are proofread and complete.
Obtaining all of these items and sending them takes time. Therefore, it is important to start preparing and collecting these documents at least six months before the application deadline.

You can also apply to several universities to increase your chances of being accepted.

Application and funding decisions will generally be communicated to the applicants within two-three months after the deadline.
U.S. Ph.D. Program Structure
Generally, Ph.D. programs consist of 72 credit hours.

If you already have a taught (not research) Master's degree, you should be able to transfer up to 30 credits.

In many cases, you will be required to take 30 credits of classes (around 10 classes throughout the program), and 12 research/dissertation credit hours.

Most programs also have some sort of qualifying or comprehensive exams.

The structure of the exam varies by department.

Once done with the exams, students are required to defend their research proposals.

Lastly, when the research is complete, students need to defend it in front of their peers and committee members.
Is all this worth it? Depends on how strong your desire to become a doctor is.
Now that you know everything there is to know about applying for a Ph.D. program in the U.S., go ahead, do your research, find the right Ph.D. program, and start preparing your application package. Good Luck!
---
Published on Jan 20, 2018
---