If you are reading this guide, it means that you have the same difficulty I had a long time ago.

I have organized more than 10 academic international conferences, and my number one difficulty has always been how to promote the conference in such a way that everyone in the field learns about it and applies for it.

Let me first define what I exactly mean when I say academic conference.

Nowadays, the internet is flooded with announcements about conferences organized every week in hotels and islands, which may be great events for networking, but should not be considered as true academic conferences.

What I mean is that academic conferences are those academic gatherings which are organized by an academic center, department, school, university, or an association, foundation, or NGO, with an aim to invite scientists and scholars in a particular academic field and discuss new findings and research in that specific field.

Moreover, academic conferences may be organized to discuss a very narrow academic topic or a wider discipline as a whole.

One of the main characteristics of an academic conference is that it is organized by an organization or an association, led by a respected scientist or scholar in the field.

Thus, an academic conference's call for papers should always identify the organizing body or group in the very beginning and at the end, it is helpful to mention the respected scientists or scholars who are engaged as members of the organizing committee.

Those are the criteria that make a conference truly academic. If a conference, on the other hand, is organized by a company that organizes conferences or events in the fields of humanities, as well as in natural sciences in different countries, hotels, and islands, it is not an academic conference.

Now let's discuss how to promote your academic conference.

1. Write a detailed call for papers

Start your call for papers with the name of the conference, organizing institute, venue, and dates. After that write 2-3 paragraphs about the scope of the conference, what problems the conference is going to focus on, describing each problem in a paragraph.

Then write a paragraph about the precise kind of papers you are looking for and the scope that each paper presentation should be.

Mention the deadline and how the papers are submitted (via email or online form).

It is also necessary to mention the word limit of the conference presentation abstracts. Usually, the limit is between 300 and 500 words. Mention here the name of the main conference organizer, since people always want to contact another person if they have questions.

Write the important dates pertaining to the conference, i.e. when will you contact the applicants to inform them about their acceptance, and when other details will be distributed.

If the conference provides travel grants, mention it. In the end, mention the names of the top organizing committee members.

But do not write dozens of unknown names as members of the organizing committee, just because they have requested that their name appears on that list. Write only the names of those scholars and scientist who will really contribute to the conference and who are renowned in their field.

2. Publish the conference call for papers on website

After you have this document ready, publish it online. It may happen that your department, NGO, or foundation does not have a website. If you are a department within a University, ask the University officials to publish the call for papers' announcement on their official website. If this is not the case and there is no big organization behind your conference and you do not have a website, find a partnering academic website such as ARMACAD, and publish your call for papers on their website.
The most important part of the published call for papers is its title. The title you choose will showcase the event and will highlight it anytime you share that link on social media, such as Facebook or Twitter, for example.
It is also important to choose a title which immediately attracts attention and informs the reader about the exact type of the announcement they are going to click on and read.
I suggest starting the title with the following abbreviation: "CONF/CfP". This will inform your reader that the post is a conference call for papers. If you start the title with only "Conference" it will be difficult to understand, if you announce the call for papers of the conference or the program of the conference. After the abbreviation, please write the name of the conference, then the dates, and at the end, the city, venue or the country. Sometimes you may also mention the academic institution in the title. So your conference call for papers title will look like this "CONF/CfP - Conference name, conference dates, institution, city, country".
If you publish your conference call for papers following these rules it will attract more attention.

Finally, do not open a blog or website just for your conference. Newly opened websites and blogs with only one publication uploaded may seem suspicious and not very serious. So, if you do not have a website, it is always better option to ask ARMACAD to publish your conference announcement.

3. Formatting the call for papers (never do PDF or a picture version)

Never, never, never design your call for papers in the form of a poster or a PDF document or a picture in JPEG or PNG formats.

One of the most widespread mistakes the conference organizers do is that they prepare a nice poster with beautiful pictures and put the whole text inside of that poster and publish the poster online or send it via email as a PDF or JPEG.

Never do that. Why?

Because when you distribute your conference announcement as a picture or PDF document it becomes very difficult for other relevant websites to republish your call for papers on their websites.

The editors of other websites will not be able to copy the text from a JPEG or PNG formatted poster without having to use some OCR program in order to be able to recognize the text, and after editing it publish it on their website.
When the announcement is distributed as a picture it will not be accessible for major search engines such as Google and Bing. Thus, whenever interested parties search for relevant terms to find your conference they will get no results and will have no chance to read your conference call for papers because you published it as a picture.

Moreover, when you do not have the plain text of your announcement, and you send it via email instead of just opening the email message and reading the announcement, the recipients have to click on the attachment, save it on the computer and only afterward to read it. Too much work.

So, please follow the rule. Have the text of your announcement as a main means to communicate your message, other files, such as a poster or PDF version, may only be a secondary means to accompany the text.

Text is king.

4. If possible, translate the conference call for papers into several languages

Regardless of the country where the conference is organized, the call for papers is mainly distributed in English.

By the way, I am against the term "local conference", because there is really no such thing.

Whatever conference you organize, in whatever discipline, there are always people in many other countries who may be interested in that topic.

So there are no geographical boundaries for the conference.

The only limitation may be the language of the conference.

So if you organize a conference in Spain and the language of that conference is Spanish, still try to have the English version of the call for papers.

Even if prospective applicants for your conference know the language of the conference fluently, it is always nice to receive a call for papers in their own language.

No matter whether you organize your conference in France about French literature for example, it is always better to have information about that conference also available in English, Russian, German and Armenian, because with the translated versions of your conference you will attract more international attention to your event.

Please make several translations for your conference call for papers.

The call for papers in your main language may be published on your website, and other translated versions may be attached to it in a word document, or again published on the website.

5. Send the conference call for papers via mailing lists

Mailing lists remain one of the best means to distribute conference call for papers.

There are thousands of mailing lists. Each academic discipline may have up to one hundred academic associations, which unite the scholars of that field.

Mainly academic associations have mailing lists to distribute relevant information to their subscribers.

Needless to say, that University departments of that particular field, different research institutes and other forms of academic communities around that discipline also may have their own mailing list.

If you are engaged in an academic activity, you should know the mailing lists in your field. Subscribe to those.

It is always free and usually encouraged, to distribute your announcement to those lists. Sometimes your post may undergo an admin approval. As soon as it is approved, all other subscribers of the list will receive your email.

So how to send the email to those mailing lists?

Before starting the sending process, you already have to have the text of the call for papers ready and published on a website with an appropriate title. Also, you may have the translated versions of the announcement, as well as the pdf and some pictures or posters.

First, put the title which starts with "CONF/CfP" in the subject line of the email you are going to send. Copy the text of your main announcement and paste it in the body of the email.

It is a very common mistake, when conference organizers just write several lines in the body of the email, stating that there will be a conference, and afterward, they ask the readers or to download the attached document or poster, or click on the website.

Do not do that.

Email the full text of the call for papers, otherwise, you force your reader to do several unnecessary steps, download a file, open it, etc., or go to another website, which is also one more step. It has to be an easy process.

Many internet users are suspicious to download an unknown attachment or to click on an unfamiliar link. So if you want more people to see, read and engage with your announcement, send the whole text of your call for papers in the body of the email, put the conference website link at the end of the email and attach all other relevant documents.

6. Publish the conference call for papers on all other relevant websites and pay for that service if necessary

If you are organizing a conference in any field I suppose you are an academician and have colleagues in many other similar departments and institutions worldwide. Contact them, send the call for papers in the body of the email as well as attached with the official link and ask them to publish that announcement on their universities website.

You may send the same request to many other people who you do not know personally, but who work in your academic field.

There are many blogs, newspapers and other relevant websites in your country and city. Contact them and ask to publish the call for papers on their website.

Most importantly, there are many specialized conferences' and academic events' promotion websites and ARMACAD is among the best websites to promote your conference.

Use those resources, publish your announcement on such paid service providing websites. They know what they do. Those websites have targeted audiences and most probably one or more potential applicants of your conference are among the audiences of such websites.

Moreover, ARMACAD, for example, will also offer you an online application system, which makes conference organization much easier and you will no more need to receive applications via email, afterward create an excel sheet and paste the details of all applicants into that form.

ARMACAD's online conference application will easily do all those steps for you and you can download the list of all applicants with one click.

Also, ARMACAD will provide you with detailed statistics about views and shares of your conference announcement and if you publish your announcements with ARMACAD regularly, you will also receive comparative statistics of all announcements year by year.

7. Simplified application process, never have PDF application form

The usual and accepted way to receive applications for an academic conference is via email.

In the conference call for papers, an email address is generally mentioned and one is asked to send the abstract of the paper and sometimes a CV to the mentioned email address.

Sometimes conferences use online application forms on their own website or on specialized conference promotion websites.

Never distribute a separate application form file with your call for paper.

Scientists and scholars do not like to fill in those unnecessary application forms.

More strange and intriguing is when instead of being in .doc format, this application form is attached in a PDF format, which, in order to be filled in, must be opened in PDF writer enabled application, which is not available for the vast majority of potential conference applicants.

So, do not use a separate application form, and even if you use, never attach it in a PDF format.

Remember, the easier the process, the better.

8. Use social media to promote your academic conference call for papers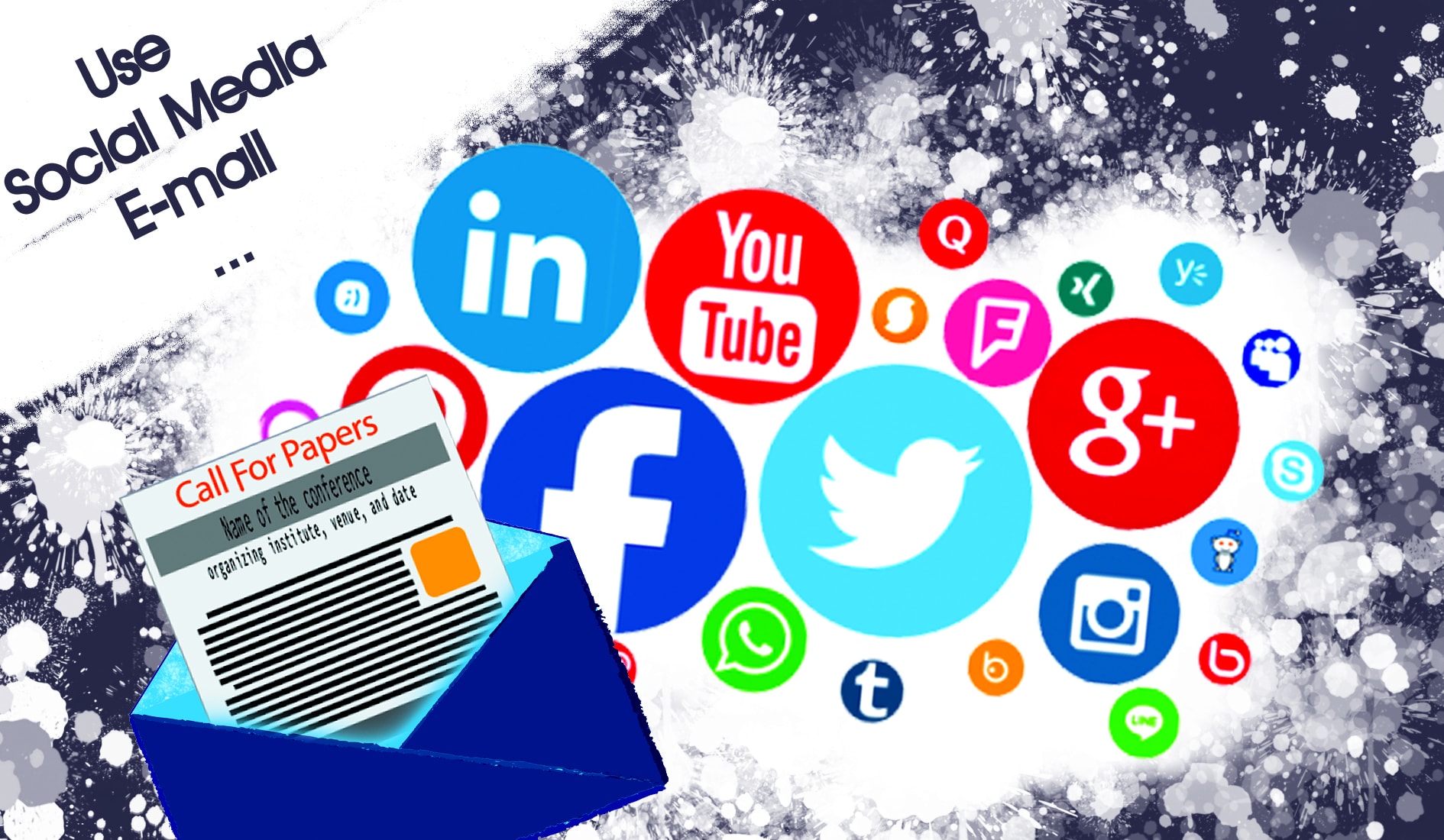 Does your department have Facebook page or group and a Twitter account?

Those two social media sites work the best to promote your academic conference call for papers.

If you have one, good, if not, open an account and start sharing posts about your department, university or institute there.

Among other posts also share the call for papers link.
On twitter tag other partner institutions, people and departments, to attract their attention. And ask them to retweet.

If you have some skills to produce nice photos, create such ones and share.

There are many groups in Facebook around which academic communities are gathered. Use those groups and share your conference call for papers announcement there.

Ask your friends to share the information on their pages and walls.

People are not kind enough about serious and academic content, the vast majority will share pictures of flowers, sunsets with some sayings and stupid expressions from some politicians instead of sharing your academic conference call. Still ask them, never lose your hope in people.

The ugly parts which you have to skip while organizing a conference

Some narrow-minded "semi professionals" while organizing a conference think, that they know everyone, or at least the best specialists in their field.

So they only send conference call for papers to several colleagues via email and are naturally against distributing the call for papers through wider channels.

They only invite several people, who they know, thus restricting others, mainly from a younger generation to participate in those events.

Such conferences usually do not attract a lot of attention, though they are really very academically oriented. In the end, the information about such conferences is lost, because the organizers not only do not distribute the call for papers, they also do not share the conference program with the academic community (read here the steps about how to promote your conference program).

This is a very wrong attitude and I hope that if you read this article, you will never be like them or make the same mistakes.

Another ugly attitude is when the conference organizer thinks that they do not have enough time and resources to handle many conference applications and because of that, they do not want to promote the conference call for papers as wide as possible.

Really?

If you do not have time, just do not organize that conference.

As a representative of an academic community, it is a responsibility to promote your conference and undertake all possible means to inform you peers about the conference.

Having no time and resources is never an excuse for not promoting the conference.

In general, there is never any excuse for not promoting a conference.

Not promoting your conference call for papers well enough means less respect towards the international academic community you represent. It means you do not take necessary steps to kindly inform everyone in your field about an academic event, which your colleagues most probably will be interested to attend. Be open as much as possible.

Concluding the 8 steps to promote conference "call for papers"

One of the common mistakes conference organizers do is that they do not care about all mentioned steps.

They think they are so unique in their field that every other person who wants to participate in their conference should know about it by default.

No.

Conferences must be promoted just like any other academic event and only after you fully promote the conference will you receive many papers from among which to select the best.

Never say, "This is enough, everyone knows about our conference."

If you have not used even one known channel, that means at least 10 from everyone you had in mind will stay uninformed about your conference.

Why?

Because every day in different corners of the world new people emerge who are interested in your field.

So you will never be able to cover all the interested scholars/scientists in your field without a lot of effort.

It is your responsibility to promote your conference.


Khachik Gevorgyan
Founder of ARMACAD
---
Published on Jul 31, 2017
---