More than 2 million announcements about academic opportunities such as BA, MA, PhD study programs, scholarships, summer schools, conferences, trainings, postdoc and other research grants are distributed every year. ARMACAD is your ultimate source to subscribe and stay on top of your academic interests. Every day we publish and distribute opportunities in all academic disciplines. Please sign up in ARMACAD, choose your disciplines, subscribe to the newsletter and be informed about all upcoming event and opportunities in your field of academic interests. Below you will find a short guide about how to sign up and subscribe for the academic newsletter of ARMACAD.
If you do not have an account on ARMACAD please create one following these steps:
Go to https://armacad.info
On the home page press on "Subscribe to opportunities" button, or "Sign up" on the upper right corner
Fill in the required fields - Name, family name, email and password. Please choose such a unique password for your ARMACAD account that is easy to remember.
Press Sign up
Go to your email inbox
Open the email with "Confirm your ARMACAD account" title
To confirm your registration press on "Confirm your account" green button
In the newly opened window fill in your email and your ARMACAD account password and press Sign in
On the right side (if on mobile - below) choose the academic disciplines that you are interested the most
Also choose the academic levels you are interested in
Press Subscribe to Newsletter.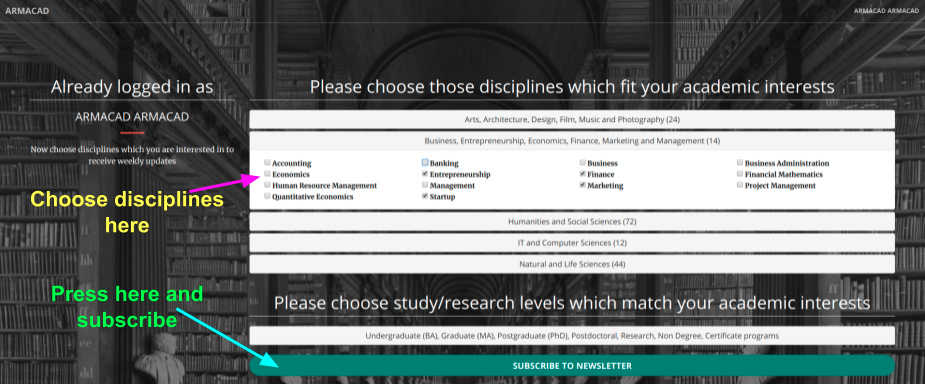 You may also sign up through facebook and after choose the academic disciplines.
If you already have an account on ARMACAD just sign in, choose the disciplines and subscribe to the academic newsletter.
If you already have an account but have forgotten you password, please press on "Forgot password?" button on the "Sign in" page.
---
Published on Feb 19, 2019
---